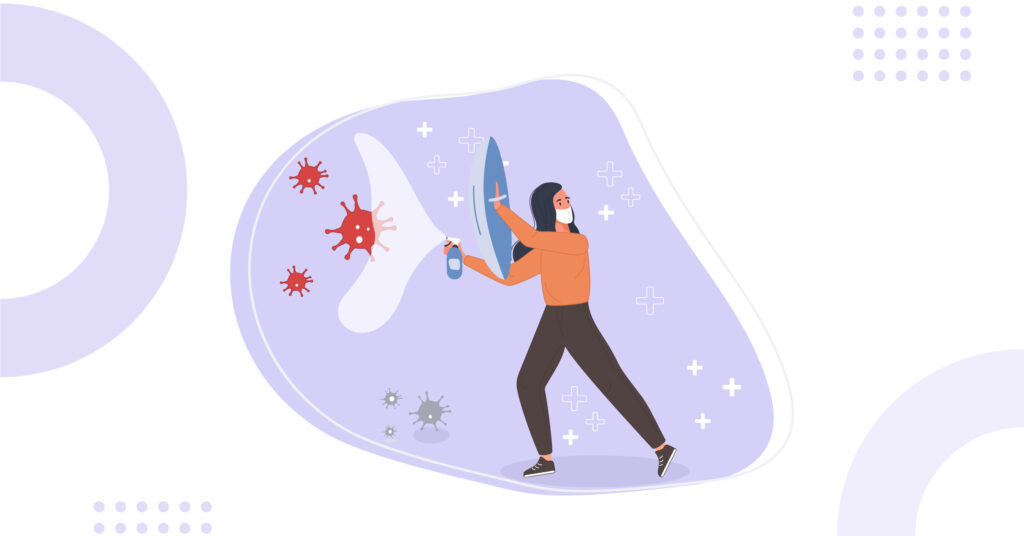 Senses Electronics Upgraded Intelligent Interactive Panel With Microbial Coating is Now Germ-Resistant for a Safer Classroom
This latest upgrade promises 99.99% protection against all microbes and viruses including COVID-19 and Black Fungus
In an effort to boost classroom safety in a post-pandemic world, Senses Electronics has launched its latest interactive whiteboard with an anti-microbial coating. When the unprecedented pandemic struck us, we had little left to do but lock ourselves indoors to curb its spread. As schools shut down and adopted a distance learning model, a smartboard with an interactive panel helped enhance engagement. Now as the situation improves and schools consider re-opening, there is a need to employ better safety in this new normal. Acknowledging this, Senses Electronics upgraded its smartboard with an anti-microbial coating. Before exploring some highlights of the upgraded Sense Board, let us understand what an anti-microbial coating is and why is it important in the current scenario.
What is an Anti-Microbial Coating?
In its simplest definition, the anti-microbial coating prevents the growth and activity of germs. The latest digital whiteboard by Senses Electronics has a German nano technology Liquid Guard protection that is effective against more than 100 viruses, bacteria, fungi including SARS CoV 2, and Black as well as White Fungus. The liquid guard is made from intelligent hybrids for competent surface protection that provides permanent disinfection when applied on the interactive whiteboard. The active ingredient in Liquid Guard is colourless, odourless, and is a positively charged polymer that disrupts the cell membrane of all microorganisms that come in contact with the active surface.
Why Do You Need the Anti-Microbial Coating in a Classroom?
Screens are highly tactile in nature and therefore host countless germs. Formerly, these germs were considered harmless however the pandemic brought about a rude awakening. We are now aware of the havoc a single virus can wreak. With this understanding, the anti-microbial coating on the latest Sense Board aims to empower and protect students and teachers against 99.99% of viruses, bacteria, and fungi including the infamous Coronavirus.
As schools would like to have an active learning environment, students would invariably engage with the Sense Board with their fingers, and work in groups together. They may even do something on the same board simultaneously in close proximity to one another. While all these activities expand a student's learning curve, they are unfortunately also a source of spreading pathogens.
Moreover, in schools, children are often careless about hygiene and are used to touching surfaces. While we are encouraging frequent hand washing and sanitization, it can't be denied that children might neglect these instructions. An anti-microbial coating will minimise the risk of the spread of diseases. It allows an unhindered interaction with the interactive board in the classroom by almost instantly destroying the harmful bacteria promising a germ-free surface within seconds.
Features and Benefits of Anti-Microbial Coating
Acknowledging the importance of anti-microbial coating, let us now explore some of its features and benefits: –
Long-Lasting Protection: The anti-microbial coating on the Sense Board is the only coating that lasts for up to 10 years. This ensures that you don't have to worry about the spread of germs for a long time after you upgrade to the latest model.
Certifications: Aside from renowned international certifications, the Sense Board also has certifications by the Indian Medical Council, Food and Drug Administration – Maharashtra (FDA), Haffkine Institute, and the NIBEC. These certifications further establish the high quality and promise of enhanced protection against germs.
Comprehensive Safety: The latest Sense Board comes with the promise of 99.99% protection against viruses including the infamous Coronavirus, and the Black and White Fungus, etc.
Quick and Efficient Technology: The latest Sense Board is proficient in killing all microbial activity and growth in less than 15 seconds. Created with advanced German nanotechnology, the coating on your Sense Board is an invisible seal that eliminates 99.99% of microbes on the applied surfaces with a layer of sharp blades that punctures through the cell membrane of the microbes. It eliminates the conditions that promote the development of micro-organisms.
Quality Assurance: The anti-microbial coating on your Sense Board is prepared using German nanotechnology that comes with the promise of superior quality.
Easy Cleaning: The new normal requires us to be more sensitive to our cleaning protocols to prevent further challenges concerning public health. With the new upgrade to the Sense Board, cleaning is easy. To clean, an individual will have to turn off the display, wipe the screen with a dry cloth followed by spraying an alcohol-based cleaner on a cloth and wiping the screen and the accessories clean with it.
To conclude, while interactive learning techniques help enhance student engagement and also improve their performance, these activities can spread pathogens to not only other students but also to their families. The interactive whiteboard is touched by both teachers and students and so to ensure their safety without a hindrance to learning, the digital whiteboard with an anti-microbial coating is the perfect solution.